Care & Support Ecards
There comes a time in one's life when one has to comfort a friend or someone close to them and show that they understand and are compassionate above the other one's grief. And the fact is that we can't always be there in person when something occurs in our friend's lives -- in our busy time and day, physical presence has become something rare and hard to get. This is why Egreetings is here to offer you the best solution for such occasions: free Care & Support ecards.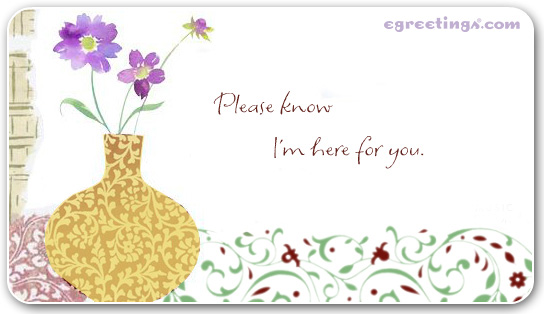 Send free Care & Support ecards by email or share them on Facebook and other major social networks. We're constantly working to create an improved sender and rec eiver experience so that you can always easily reach out to your loved ones. This is why sending Care & Support ecards is so easy nowadays -- our users are the center of our attention.
Care & Support ecards are a versatile collection of Inspirational, Sympathy, Get Well, Good Luck and 9/11 Remembrance ecards that you can easily send or share anytime and from anywhere. Care & Support ecards can be sent every day, too: Inspirational ecards are suitable for every day when searching for a bit of, oh well, inspiration to share with your friends and close ones.