Birthday Card
Did you know that saying Happy Birthday is now easier than ever? You can count on us to constantly work on making it easier and easier for you to share a smile with your loved ones and everyone in your life.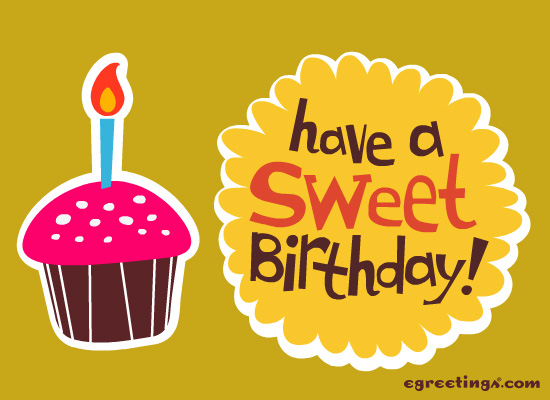 Presents, balloons, birthday cakes, songs and cheer are all to be found in any birthday card on Egreetings. We've carefully selected only the top notch ecards that are sure to bring a smile on your friends' faces on their birthday even when you cannot be present. When you are looking for a birthday card, just browse by theme, recipient or tone and we promise you'll find the perfect ecard in a few clicks. And once you've picked the perfect birthday card you can easily send it by email or share it on Facebook or any other social network.
Tip: Upcoming Birthday Calendar
Afraid you'll forget a friend's birthday?
You don't need to worry about remembering birth dates anymore. With the Upcoming Birthdays calendar you can find on our homepage or inside the main page of the birthday category, you can keep track of all birthday of your Facebook friends. All you need to do is click on their icons in our Calendar to send or share them a birthday card! See for yourself how easy it is!
Tip: Schedule your ecards
What if I don't have computer access on my friend's birthday to send them a birthday card?
Don't fret; we have this one figured out, too! You can schedule your ecards up to a year in advance. When you choose to send a birthday card by email, just pick your preferred dates on the Delivery Date calendar: you send the birthday card today and we deliver it to your recipient on the date of your choice.
Happy Birthday begins today!